Is your supplier ghosting you?
17th Mar 2022
by Edward Moss
Does this situation sound familiar?
You make an enquiry with a CNC machined parts supplier. They're really interested in you, they're responsive to your calls and emails and you submit a RFQ which is promptly processed, and your quote returned. There's some to and fro, and you're impressed with them and decide to place an order.
If you're lucky, you'll receive an order acknowledgement within a week. The lead time for the part is six weeks so you place your trust with the supplier and assume that unless you hear otherwise, the part will be delivered on time.
Five weeks pass and as you haven't heard anything, you assume that everything is on track for the original delivery date. But the silence is starting to worry you, so you decide to send them an email anyway, just for a bit of reassurance.
A couple of days pass with no response so you decide to give your contact a call, just to check in and ensure everything is as expected. Unfortunately, your contact isn't in the office (hence no response to your email) and no one else seems to be able to help, but you're assured they'll give you ring first thing in the morning.
First thing comes and goes. You give them a couple of hours, just in case your ideas of 'first thing' differ… and then you call them.
When you finally speak to your contact, you discover that there has been an unforeseen delay and the parts won't be delivered on the agreed date after all.
At this point you're just three days from the expected delivery date. You've got four engineers lined up to assemble the parts when they come in. And now you've got one big headache.
The true cost of poor communication
It's not just the lack of communication about delays or late parts that can have a significant cost to your company. Poor communication for parts that do get delivered on time can still come at a significant cost.
When your supplier isn't proactive in their communication, this puts the onus on you to chase and seek reassurance that the parts are on track.
In the example above, you can see how the time starts to add up. Time spent thinking about whether the parts would arrive on time, the email sent, the phone call when you couldn't get hold of your contact, the time waiting for the call the next day and your final call where you finally got the information you were after. And that's before the time you now need to spend rescheduling your engineers and sorting out any further implications of the delay.
In reality, there may have been a lot more back and forth on email, or you may have ended up playing phone tag with your contact when each of you are away from your desks. Multiply this by the number of parts you're buying from different suppliers and it's not hard to see that time spent chasing suppliers can come at a significant cost.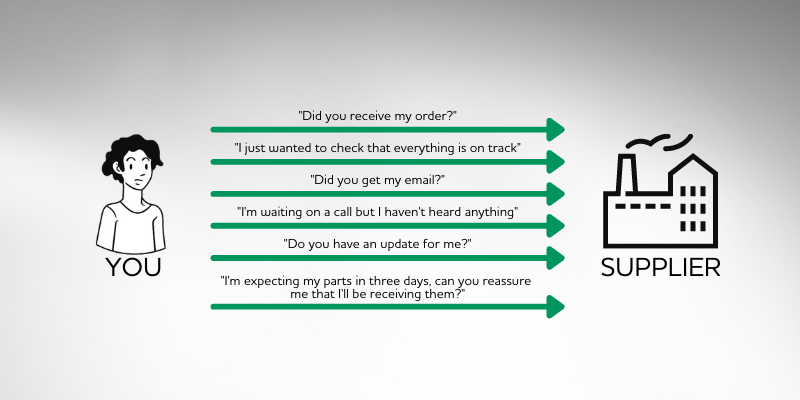 Improving communication with your current supplier
When you trust that your supplier will keep you up to speed, this can free up your mind and your time and allow you to get on with what you do best.
Setting expectations with your supplier at the time you place an order is essential. You can request that they contact you at certain intervals to keep you up to date on progress – not just when there are delays. For example, having a phone call scheduled for a couple of weeks before the part is due can help to put your mind at ease.
What should you look for in a new parts supplier?
We know that trust is a huge factor when it comes to choosing a new supplier, and good communication goes a long way towards building trust.
When seeking a new supplier, it is important to find out what their process is and how they will communicate with you. If they can't tell you, this could be a red flag. A clearly defined process will go a long way to building trust.
Here at Penta Precision, we pride ourselves in standing apart from our competitors when it comes to communication. In fact communication is so integral to our service that it's one of our "3 Cs": communication, care and consistency.
Our Proven Process incorporates touch points where we outline when you can expect to hear from us. We have found that laying this process out for our customers goes a long way to building trust.
What communication can you expect from Penta?
When placing an order with us, you will receive email confirmation within 48 hours with a delivery date.
If any unforeseen issues arise (as sometimes happens in this industry), we will contact you to keep you in the loop. This enables you to manage people and resources your end so there is no down time.
Find out more about our Proven Process
Talk to us about your upcoming project
At Penta, we are always open to a chat about your project, your requirements and how we can help to free up your time.
Call 023 9266 8334 and ask to speak to the Estimation team. We look forward to your call.